There are many names for this structure: dugout, shelter, or, as rebels called it – kriivka. It is a big hole in the ground covered with tree trunks and sand bags, usually arranged in several layers. This shelter becomes home for soldiers for many months, and the nature of life itself transforms from terrestrial into subterranean state.
Donbas land is famous for its black earth and fertility, but also for swampland. In the middle of wide steppe, there is a dirt road, well "beaten" by military vehicles. On the right hand, there are broken electricity lines, on the left – cut treetops. As a rule, in order to get to the frontline, you need to ride a big, steel and cold horse "beha" (infantry fighting vehicle). Tracked vehicles run over swampland and gently dive in the deep puddles of water. It is quite clear that nothing can drive through this, but "beha".
We set out for a frontline unit of Ukrainian army near villages of Novozvanivki, in Lugansk region. After several kilometers of quick ride aboard an armored vehicle, we appear somewhere in the middle of wood lines, fields and inexplicable Lugansk's slopes.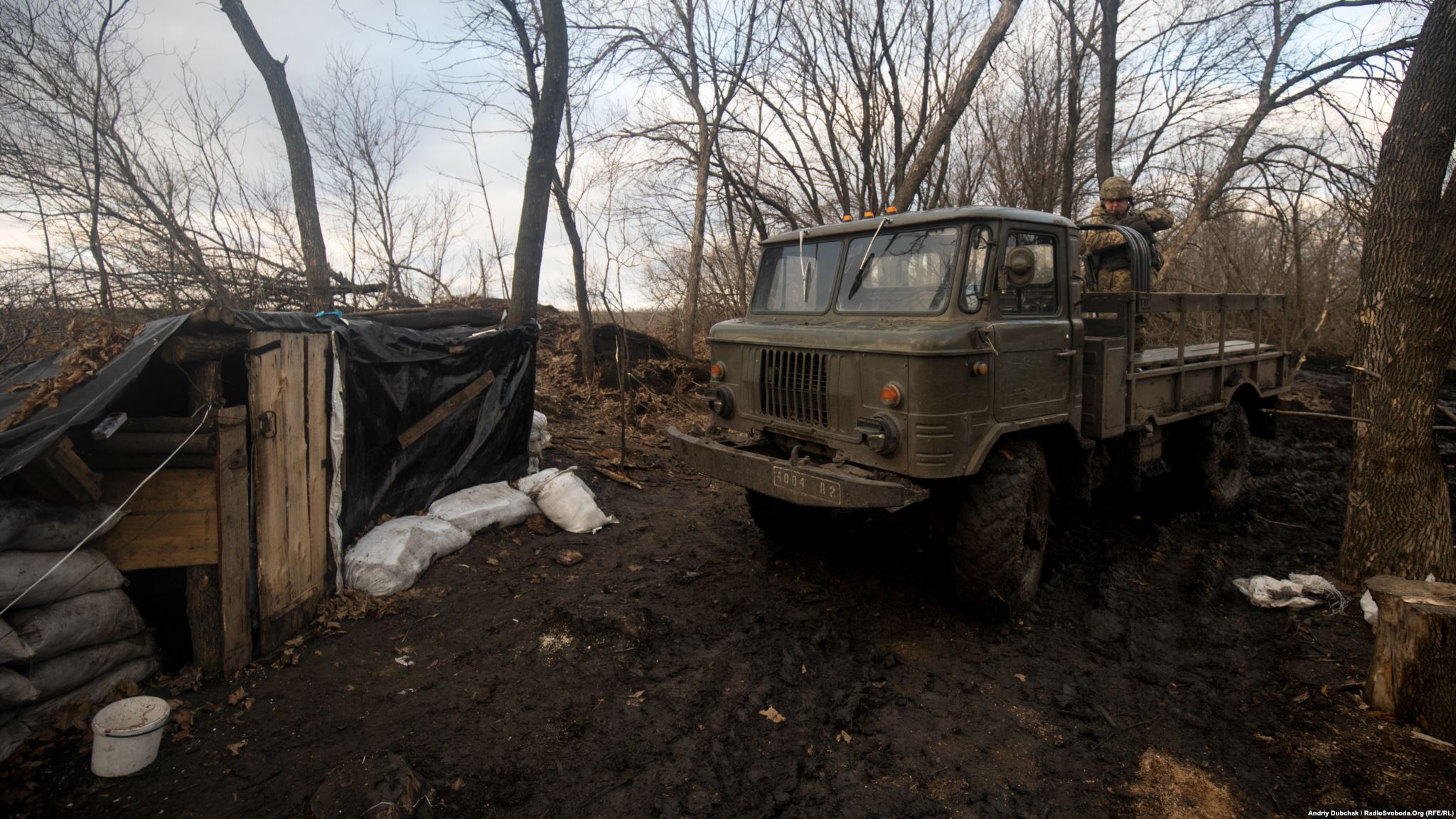 In a wood line, amid mire, there is a little sign of a dugout. This is the command post of company defensive positions, from which combat command is usually executed. Conditions, of course, are as rigorous as everything else on the frontline is. Under sleeping beds arranged in two tiers, there are slippers in dirt, boots and household stuff. Hot furnace warms the clay wall of the dugout. The place is warm. Our lenses become misted at once from the temperature alteration.
"Volodya, there are three of us, and we'll stay with you for a 24-hour period on full supply," says Vjyatsheslav, with seemingly drill sergeant's voice. However, his voice suggests a hint of irony. He tirelessly takes us around throughout our entire journey.
As expected, the food, of course, was not for a gourmand. Cooks said that food is not always healthy, because of fat.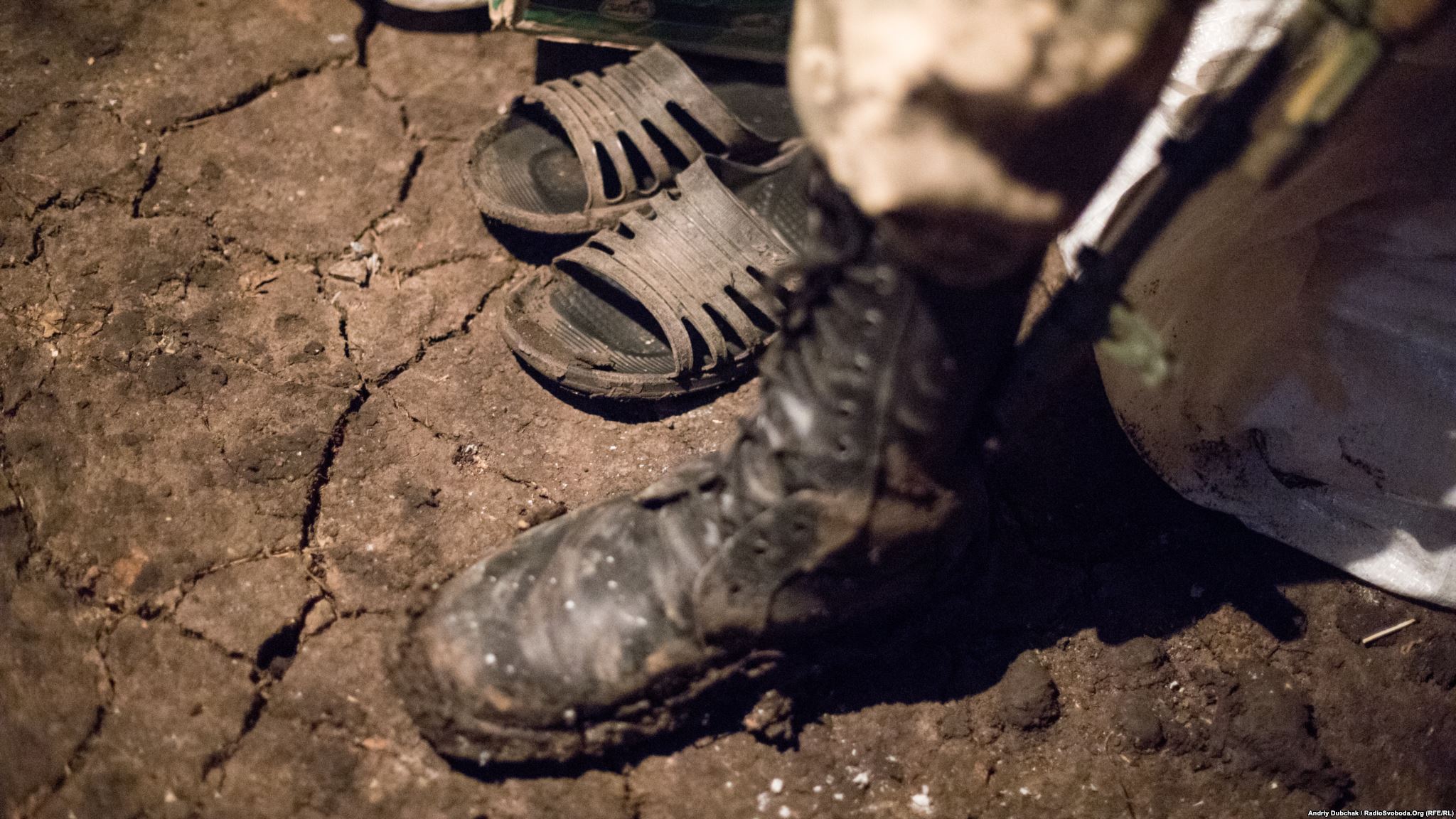 Certainly, warriors try to do everything to make their daily life as comfortable as possible – even in such rough field conditions. As an opportunity offers, these soldiers try to build up their shelter (which will be their home for a year), to the greatest extent: plank it with wooden board, fabric and heat-insulation tape. They also install electricity and even Internet. TV is another matter. Even if we saw some TV sets in the dugouts, the TV content was, to put it mildly, not pro-Ukrainian.
Typically, dugouts accommodate from six to ten soldiers. Obviously, it could be less. According to the rules, there must be at least two entrances/exits. There could be several rooms (it depends on how large the pit was made and on the amount of available material).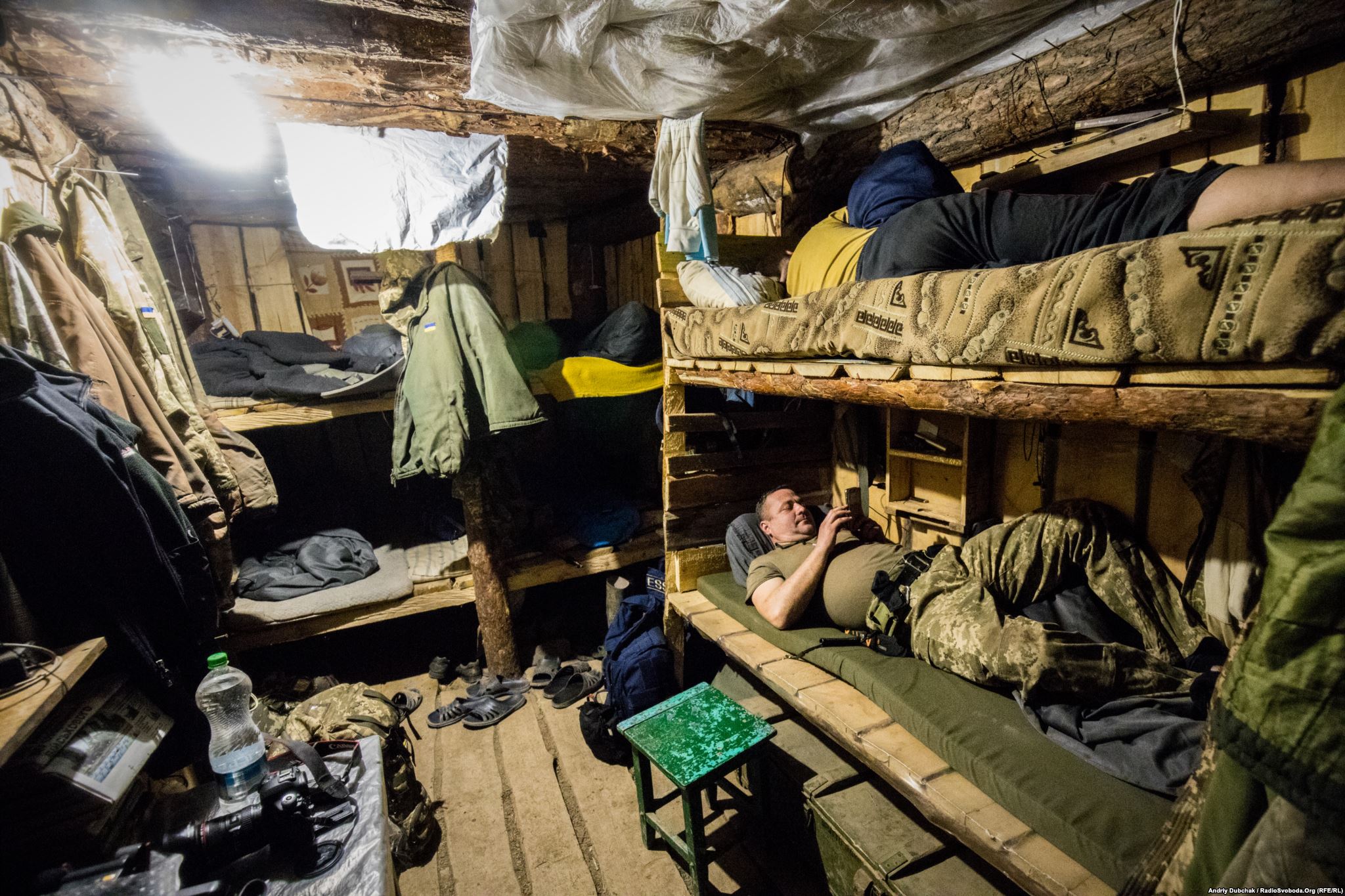 Attached to the walls of the dugouts, drawings made by children have special appeal. The pictures are everywhere. They resemble wallpaper back at home, but here they have distinctive vibes.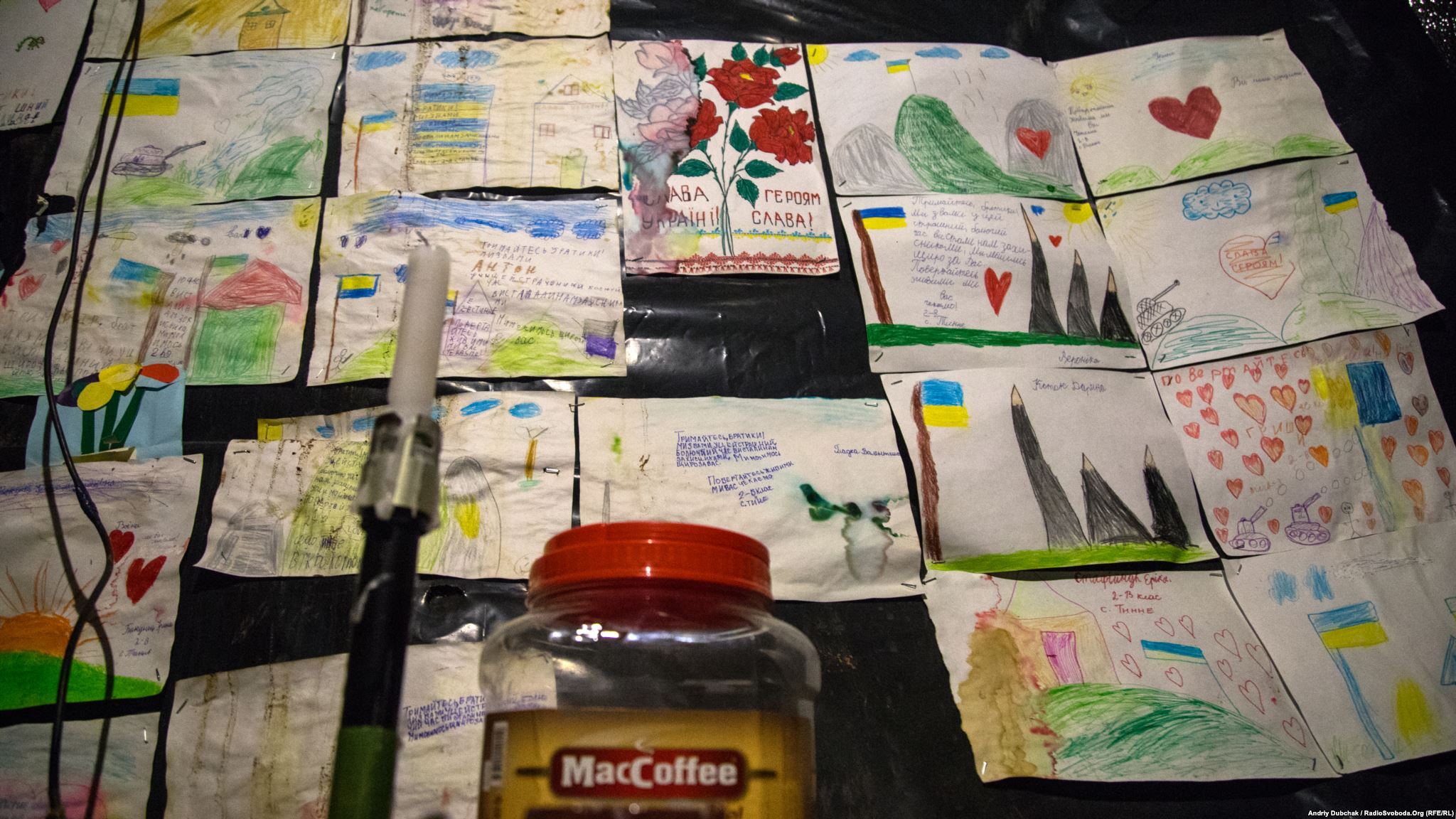 Similarly, there are walls decorated with chevrons of different combat units. "We have various chevrons here; usually they belong to the units in which our guys have served" says Eugene, as he attached an updated battalion's chevron to the wall.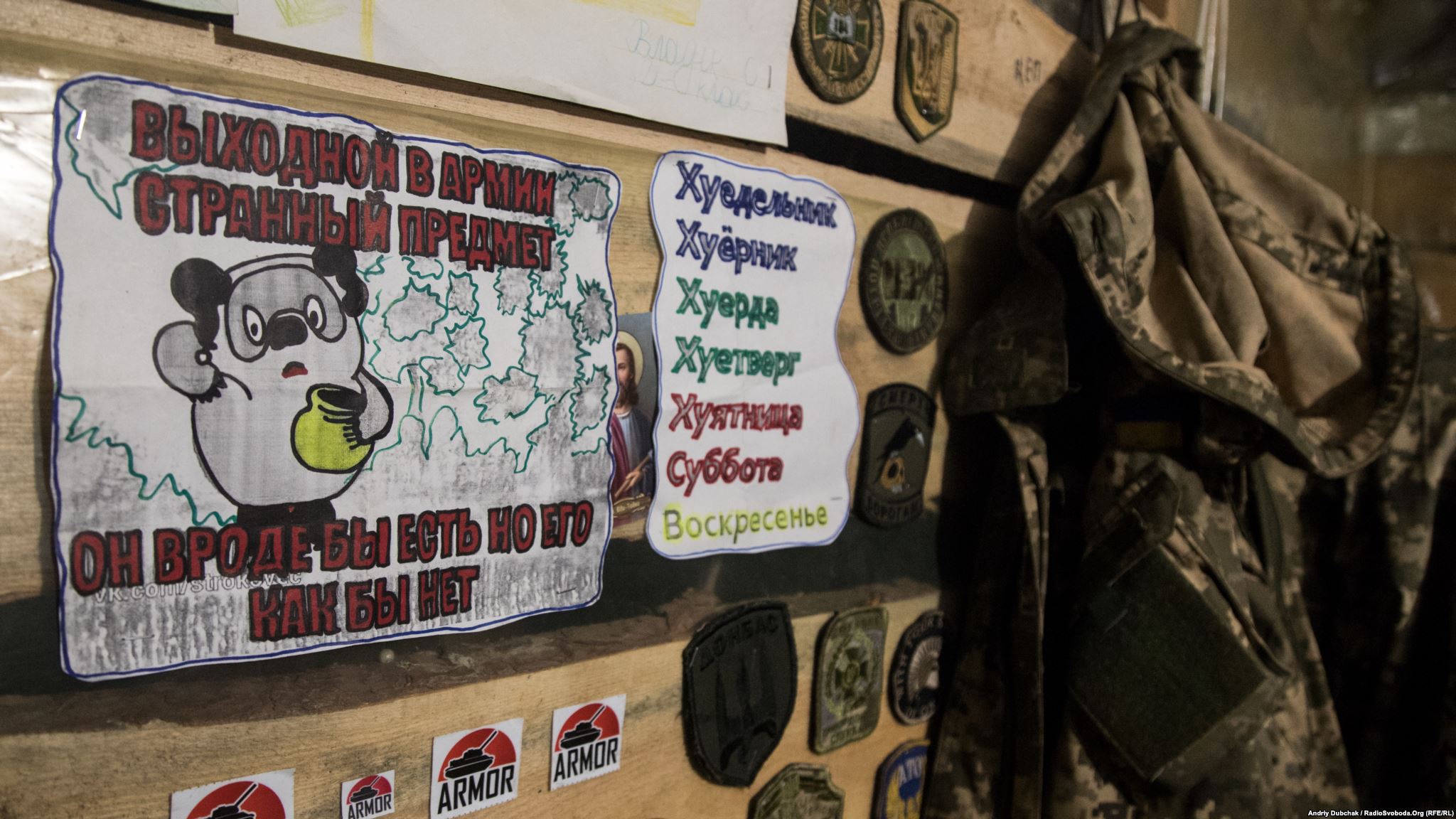 In a close male team, foul language quickly becomes common in everyday communications – that is why officers (and soldiers themselves) strive to fight this trend by their own example, and by humorous leaflets: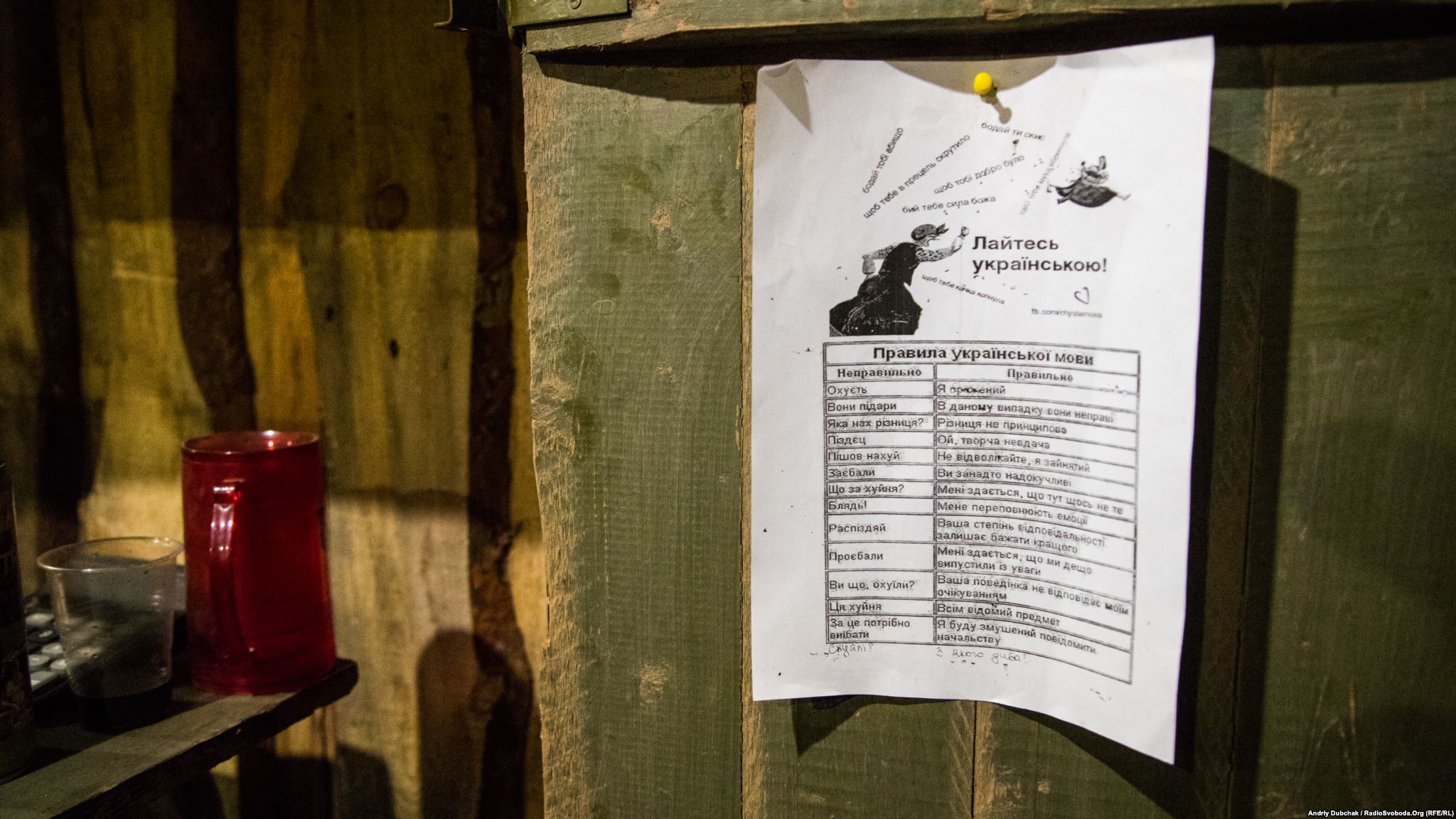 Time after time, in the dugout, you can hear explosions on the ground. Soldiers say that, probably, rebels sweep the wood line with fire, using large caliber, explosive bullets of their machine gun. They fire randomly on treetops. However, even that random gunfire puts soldiers on high alert.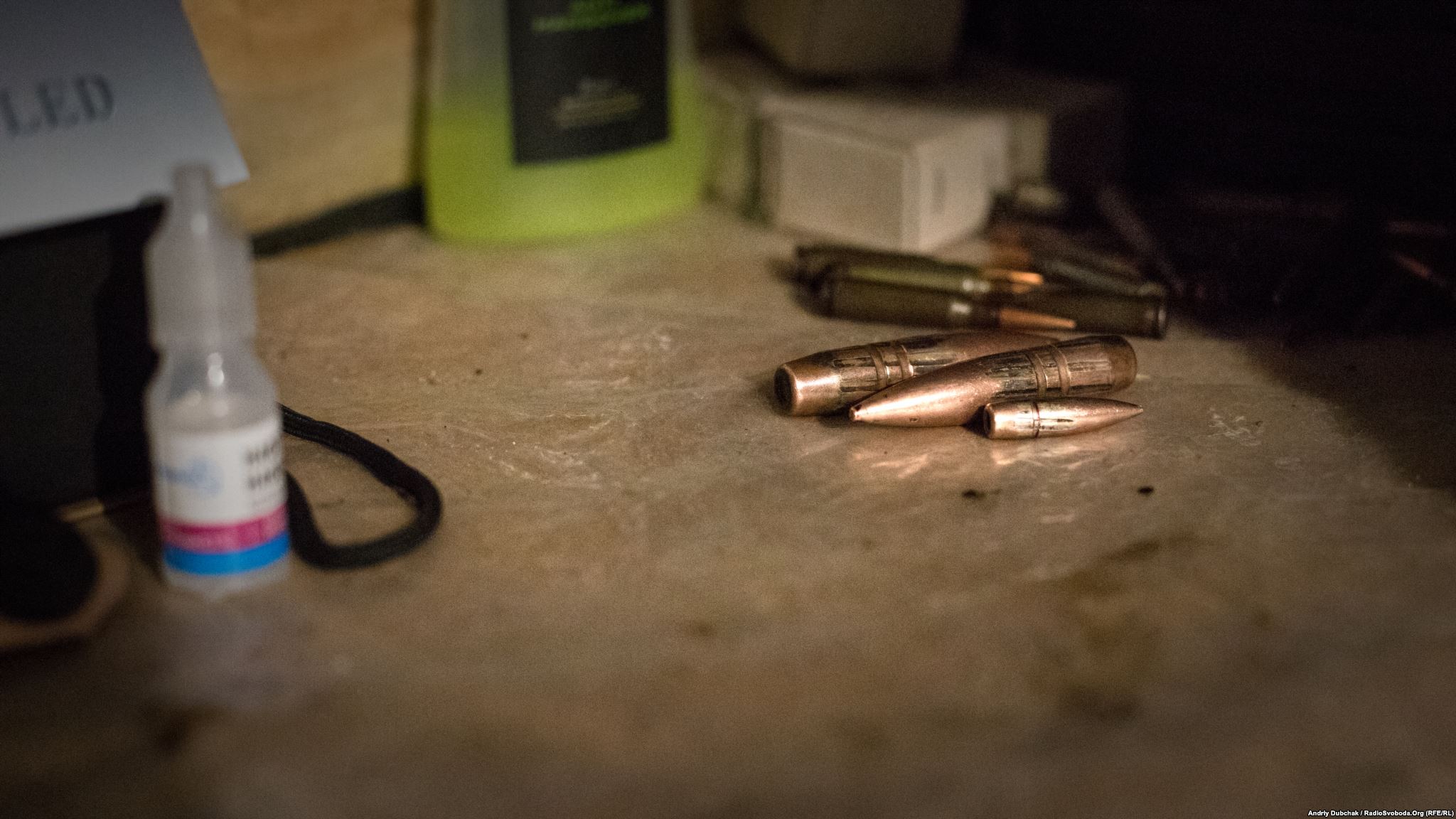 Kitchen is probably the most popular place on the frontline. It has many names: club, bar or restaurant. On the frontline, everything is treated with humor. Usually, Kitchen-dugout is the most visited place. This is the place where people eat, talk and meet guest. Almost on every position, they take us to the cook and offer, at least, tea or coffee (it seems that during several days of our stay in dugouts, we drank monthly limit of coffee).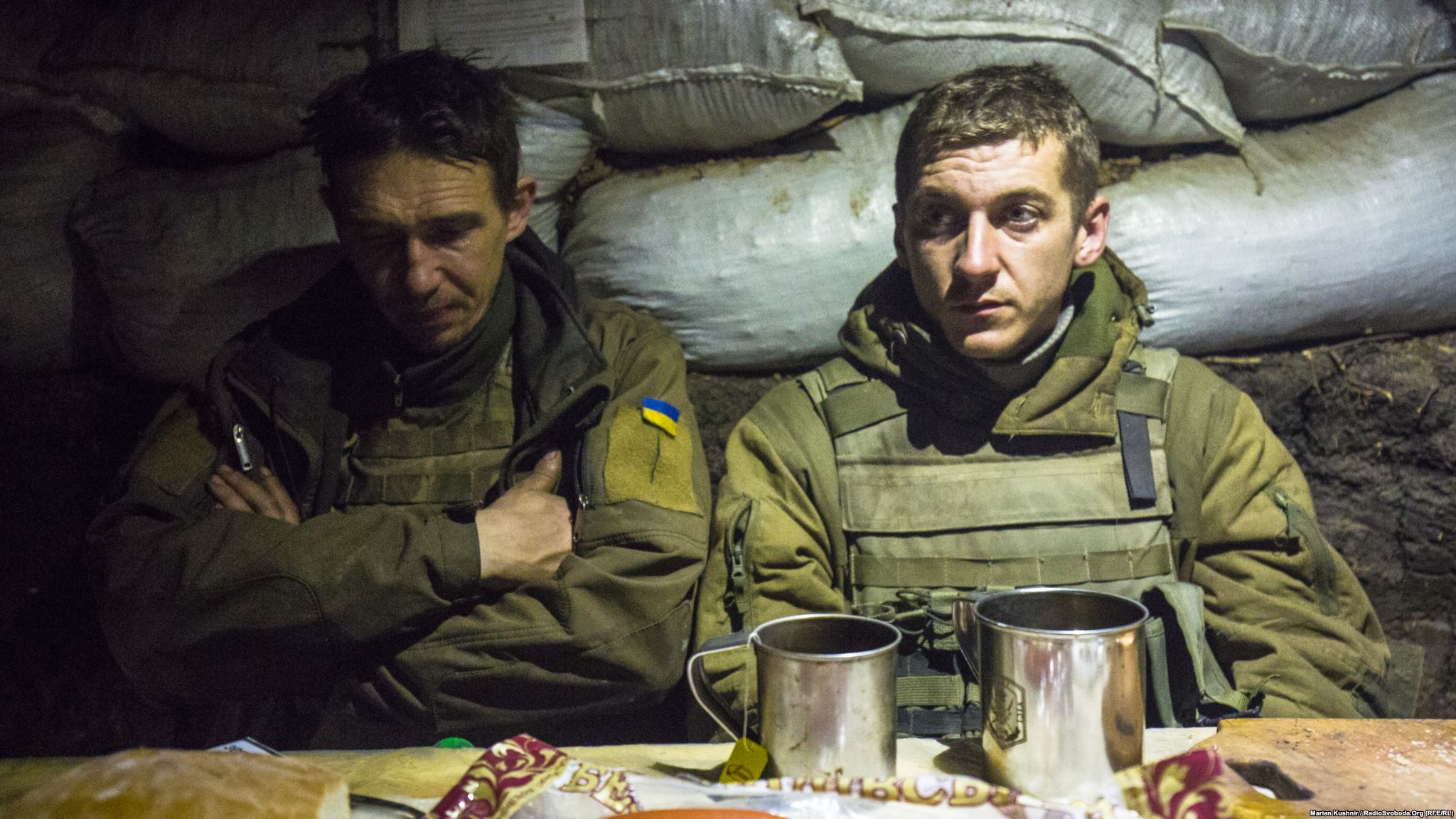 On the frontline, military enjoy full meals (macaroni, potato, cereals, and meat). However, most food is fatty and it puts some strain on organs of digestion.
In every unit, there are people with certain duties. For example, here is "Doc" from Ivano-Frankivsk region. He holds a medical position, but also oversees kitchen. His task is to make sure that there is enough hot water and food in the boilers. He is in charge of food and supervises soldiers' food standards.
"I simply love cooking, I enjoy it. I ask boys, what they would like. On occasion, I even grilled steaks," says Doc, treating us with a dinner.
There is always little room in the underground – you can see medical supplies ready, near the dining table. In case of injury, this is the first place (after evacuation from red zone) where warriors receive initial professional medical help that include secondary inspection, wound cleaning, stabilization, urgent surgery treatment. Only after that, evacuation to a hospital takes place.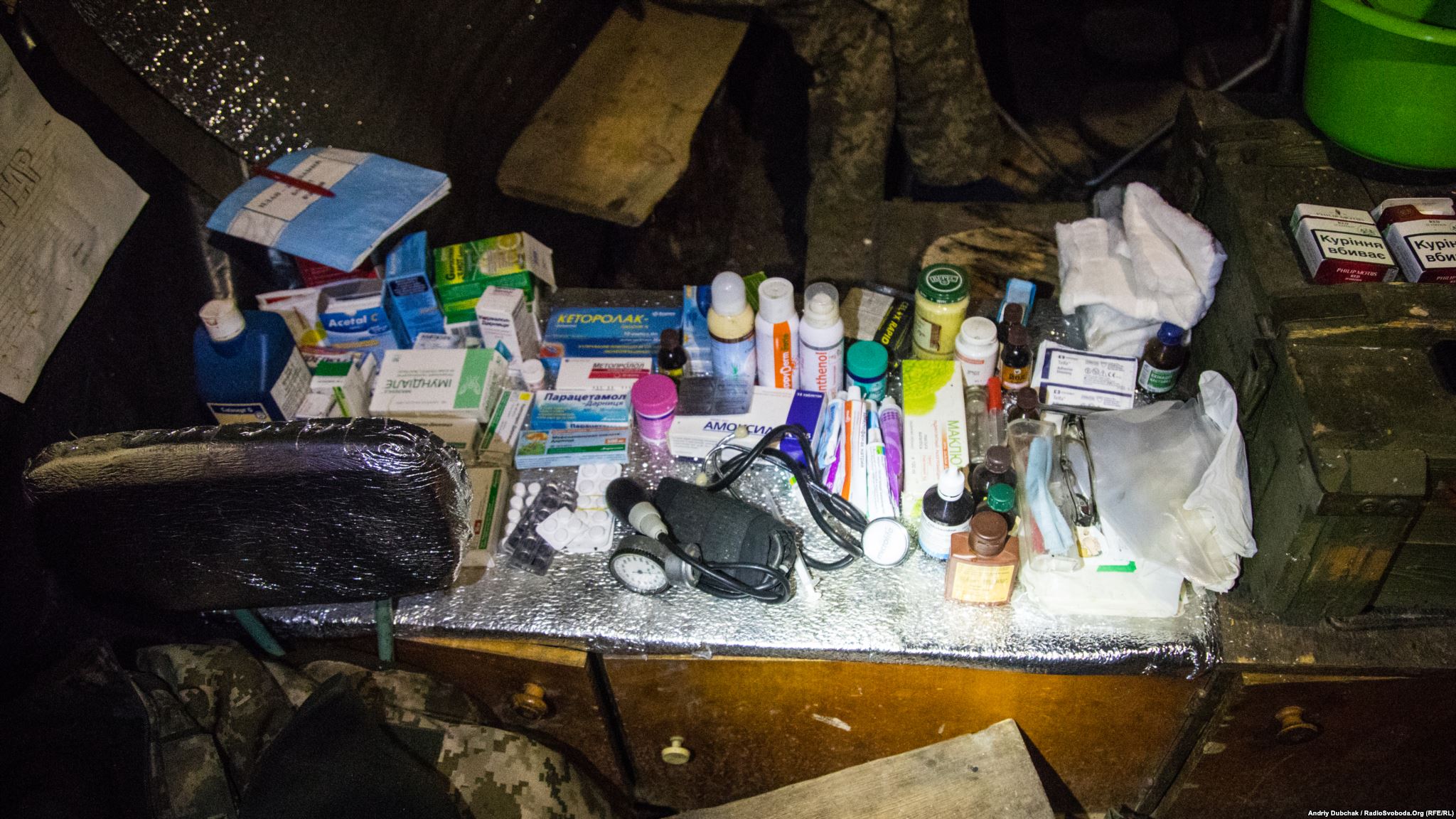 A field toilet room is a remarkable, special topic. Understandably, in the middle of steppe or forest, such "amenities" are built on the open ground. However, out of curiosity and by observation method, we tried to determine which ones were "safe" and which were "unsafe." Considering constant shelling, some toilet rooms, which were furnished with certain elements of protection (look at the photo), were "more comfortable" for nervous system. While others, unprotected, were less likeable – however, they stimulated "the process," especially when than that distinctive, whistling sound can be heard.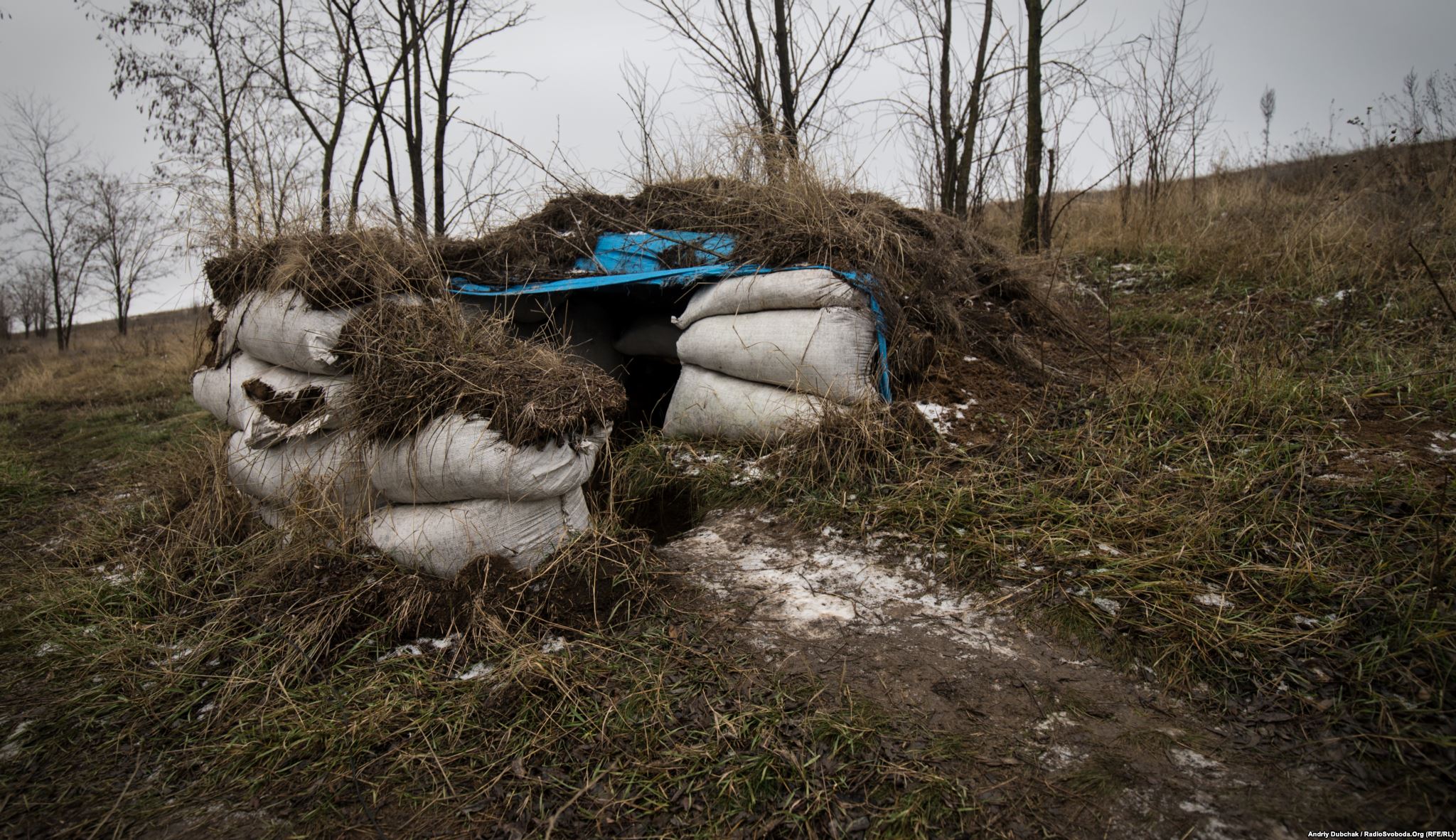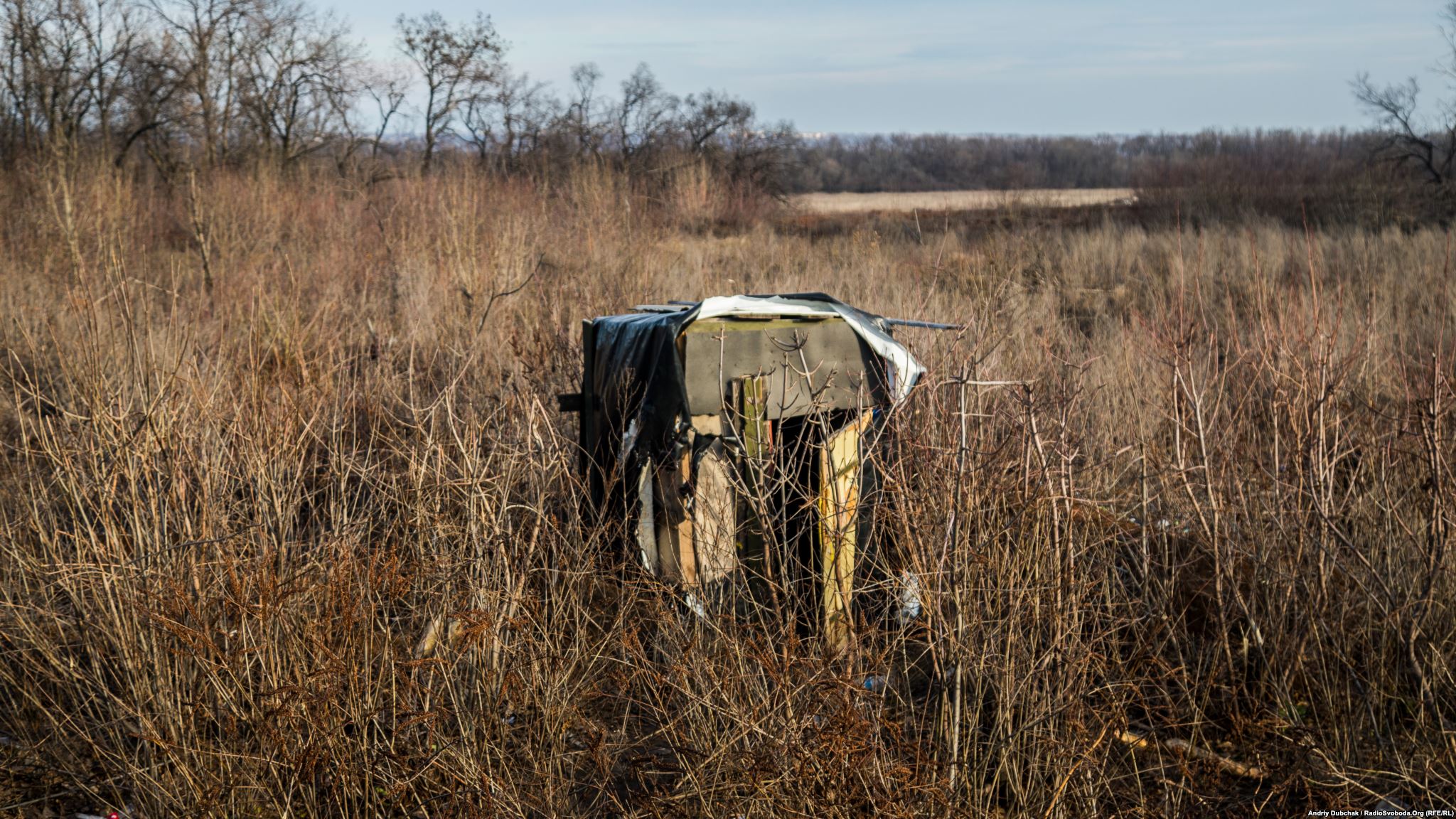 Many PS (platoon strongpoints) and CDA (company defense area) have their sports grounds. There are punch bags, barbell made with sandbags, and other rather odd sports equipment, some even made from remnants of munitions.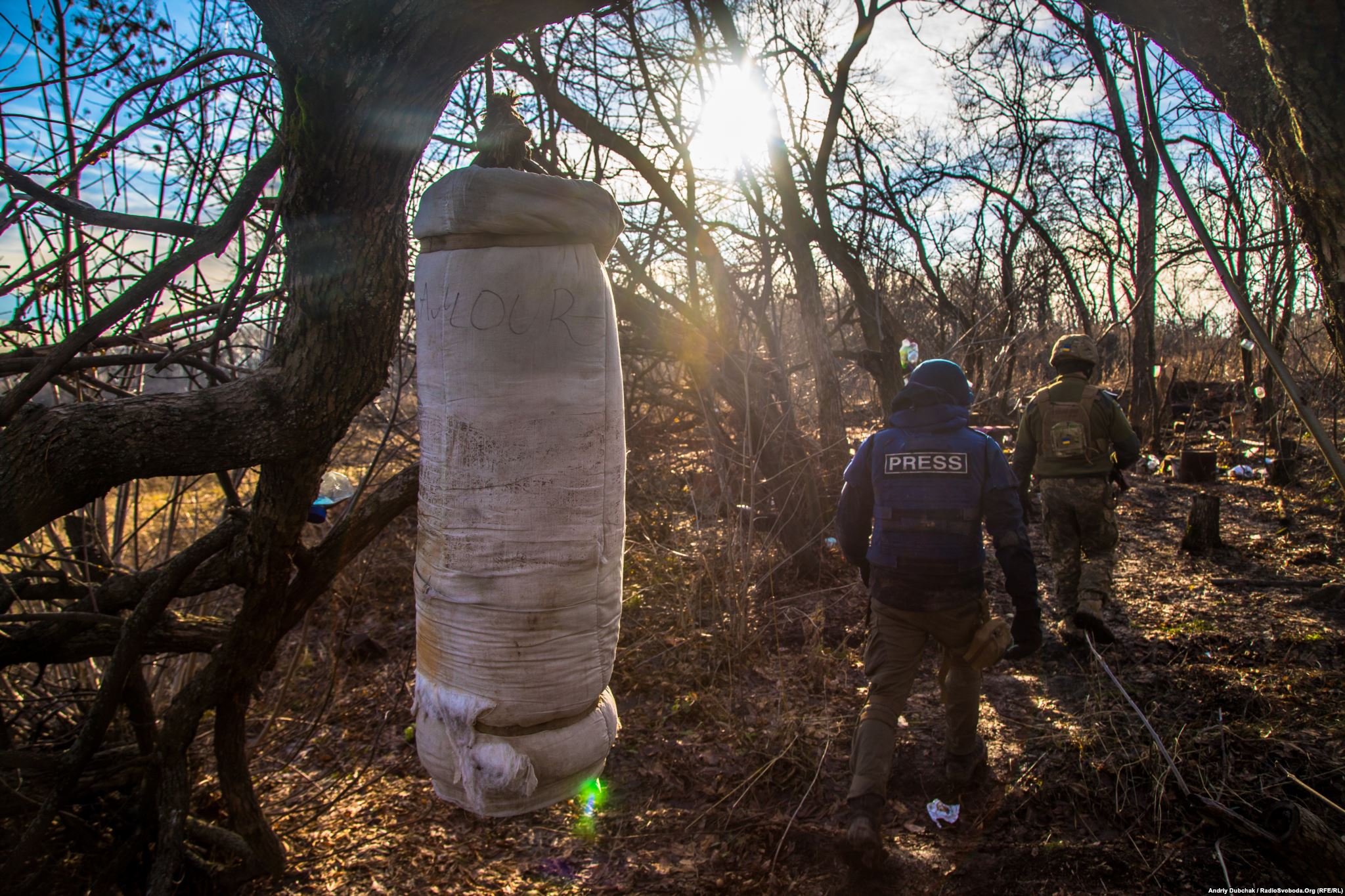 There are always pet animals on the frontline. Some positions have more of them, some less. Some positions could be called "cattish," while others "doggy." Here, pets are unique anti-stress remedy, but also reliable security and antidote against rodents.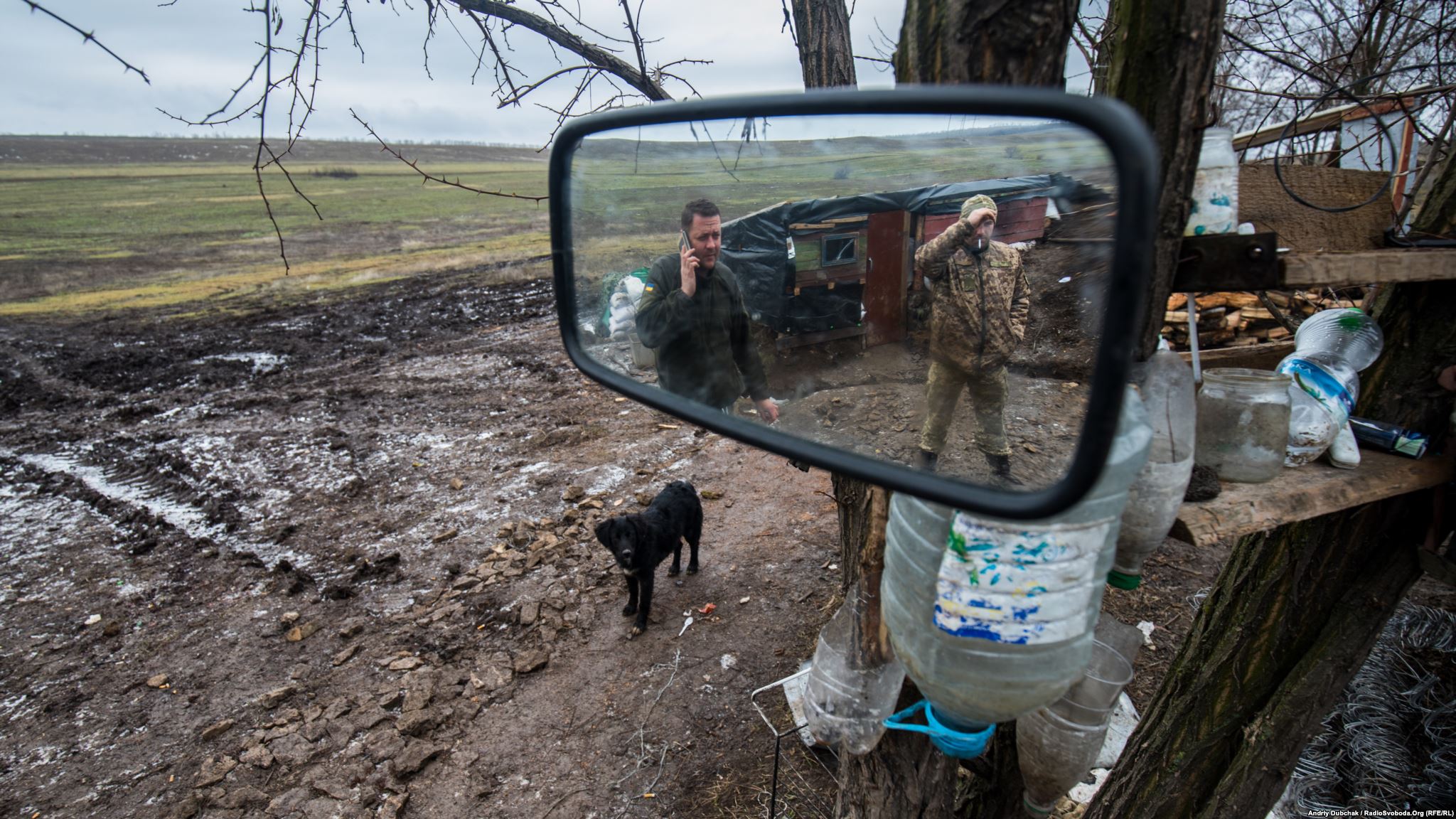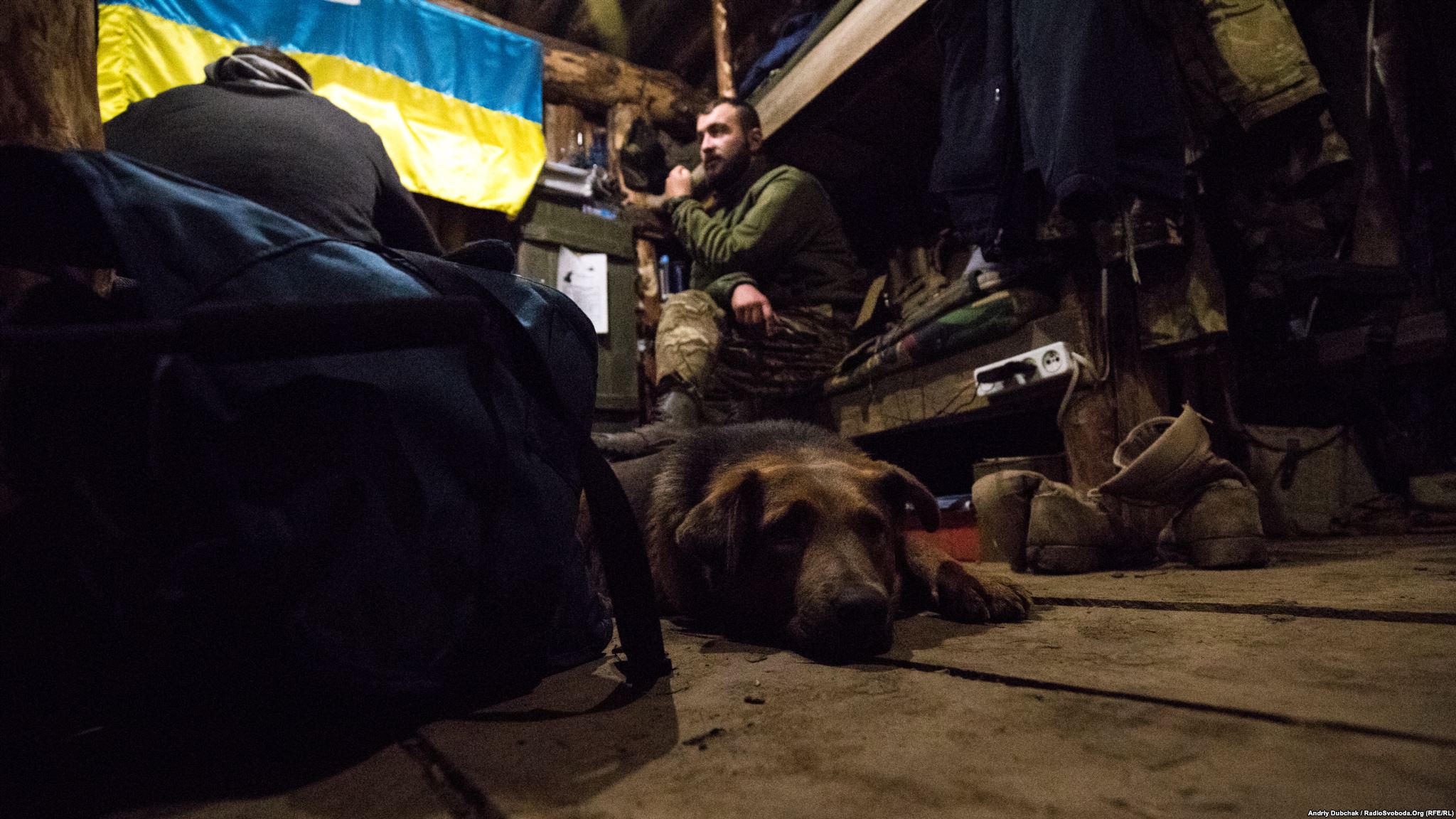 As the saying goes, "at war, there could no atheist." Wherever we went, we saw some elements of religion. This particular dugout was no exception – beside Ukrainian flag, there was an icon of Holy Mother. The same was with sport. We saw sports grounds almost on every position. Everything was handmade, of course. Nevertheless , the sports grounds are widely accessible.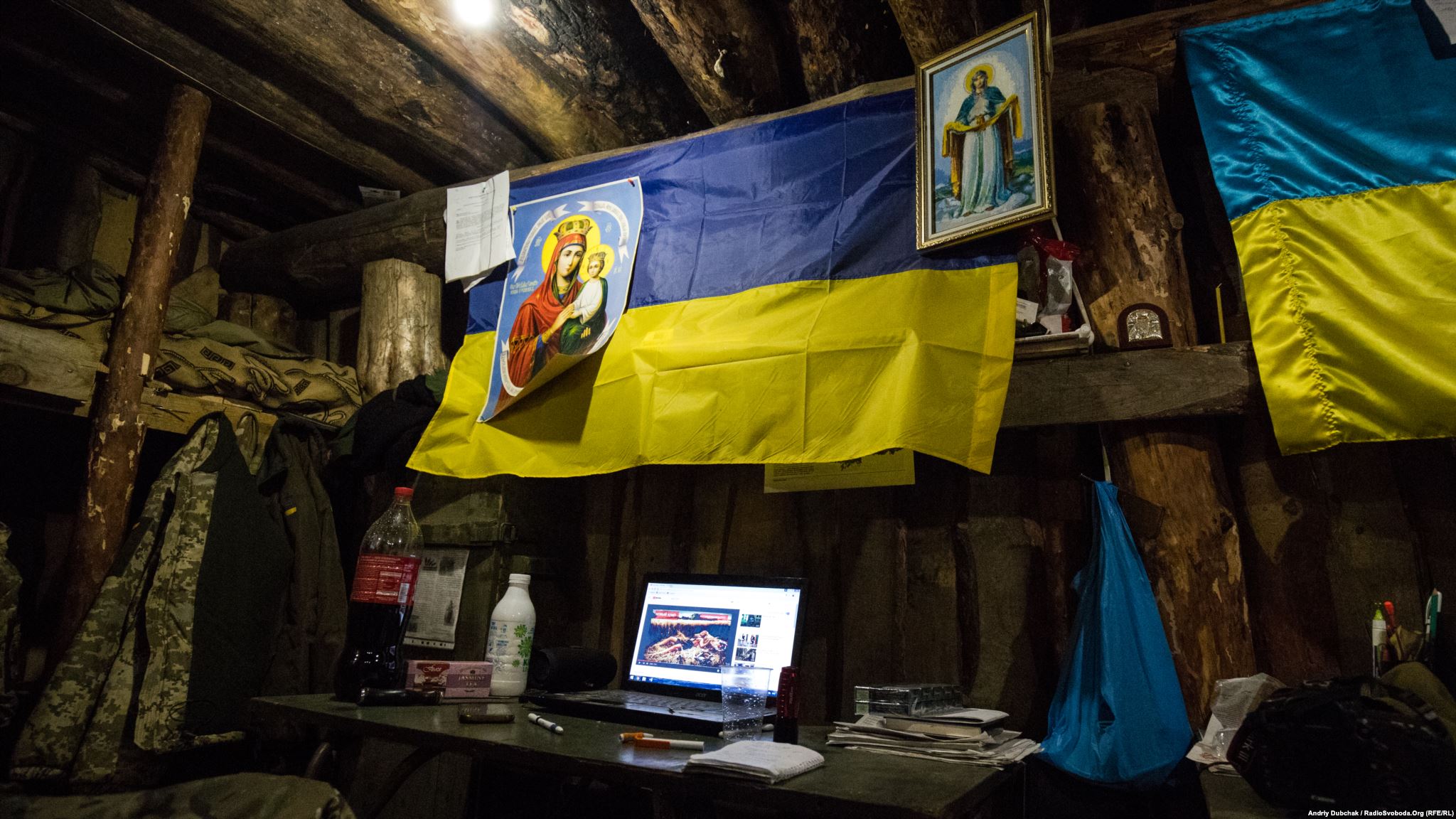 Certainly, a dugout will not substitute for a warm and comfortable house. An icon placed amidst dirt will not bring faith to your heart. Sports equipment will not give you fortitude. What saves our lads on the frontline, what gives them strength – it is faith in what they do already the fourth year – that is the defense of Ukraine.
(To be continued)
Afterword
Within a few days, Radio Liberty correspondents visited many of the frontline positions under Popasna, which were under the control of a separate mountain-assault brigade. Given the considerable number and versatility of the footage, it was decided to present the story of the brigade in three separate but related publications: